I just got home, put my dinner in the microwave, saw my dad watching X2 on TV and said something about it being Tuesday, went, "HOLY SHIT IT'S TUESDAY!?" and ran to vote. GUYYSSSS. I love Fandom March Madness. And being that I am in only one fandom this year, GUESS WHO'S GETTING STANNED. Sherlockians, I shall meet you in the comments over there~! (LOOKS LIKE IT'S JOHN IN THE LEAD. GO HEDGEHOG, GO!)
WAIT, GUYS, WTF IS THIS AVATAR MESS. WHY IS TOPH
LOSING
. I am enjoying how Kelly Kapoor and Annie Sawyer are winning, and there are some pleasant surprises (Zoe? Lana? Sweet Dee? Teen Wolf and The Borgias are still on? Blaine Anderson ISN'T winning?), even still.
BUT JOHN WATSON, LET'S DO THIS.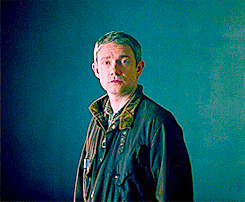 EDIT 1: LOL OH GOOD, I'M GLAD ALL SHERLOCKIANS ARE NOW HATED BECAUSE OUR VOCAL CONTINGENT IS ANGRY ABOUT ELEMENTARY. >:| I'M NEVER IN A FUCKING SANE BIG FANDOM.